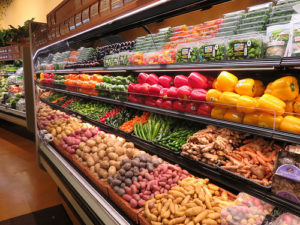 Food is MORE Than Calories
I wanted to take a moment today to talk about why I always recommend including whole foods into my clients' daily food consumption. When we eat, many people focus on the calories going in and out of your body, but food is MORE than calories. The foods we eat all have certain properties and components that all have an effect on our bodies.  This is why sometimes you feel bloated when you eat certain foods or feel great when you eat others.  
But WHY are Whole Foods Better?
Whole foods and vegetables contain more vitamins and minerals per serving than processed and chemically manufactured foods. The vitamins, minerals, and overall makeup of the food you are consuming CHANGES the way it is absorbed and used in your body. Vitamins and minerals, while not a fuel source or calorie-containing, are essential to carrying out almost all bodily functions. For example, Vitamin B helps your body with energy production and immune function, Vitamin D and Calcium work together to support bone health and strength. The more whole foods you can include, the more vitamins and minerals you are consuming, the better your body is able to function, the better you feel!!
Even though counting calories and macros might help lead you to your goals, filling those calories using whole foods will get you there even faster and feeling better.
How to Incorporate Whole Foods into Your Diet
Whole foods are any foods that have not been processed in any way, or has been minimally altered. An easy way to pick out a whole food is to choose something that doesn't have any other ingredients than what it is. For example, a carrot doesn't have any other ingredients other than: carrot. The best way to start incorporating more whole foods into your diet is to shop on the outside aisles of the grocery store. Choose foods like fruits and vegetables in their whole form (or maybe pre-cut if you're low on time) and meats. There are TONS of quick and easy recipes using just whole foods that you can make a staple of your weekly meal prep. One of my favorites is this Deconstructed Stuffed Pepper from Stupid Easy Paleo.
Give your body the fuel it needs and see how much better you can feel!