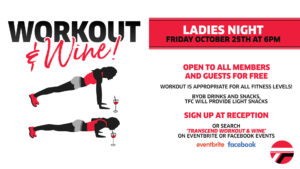 LADIES NIGHT
Workout and wine is sneaking up on us, have you registered? It's not too late!
Here's a quick recap of the event details:
Friday, October 25th at 6pm
FREE event for all our members and their friends.
We will do a workout that is scalable and suitable for all fitness levels, and most importantly there will be fun.
It's a BYOB and we will provide light snacks. However, some members have asked to bring snacks too (you ladies are the best), and that is most welcome! Now is the time to show off your cooking skills (or your pick up from the prepared foods aisle at McCaffrey's skills, ahem).
One last thing- who hates PRESENTS.  No one. Well, guess what?  We have presents for your friends when they come AND ALSO, when you share our event on your social media pages with the hashtag #workoutandwineTFC YOU automatically enter the drawing to win a lovely hamper of vino.
We can't wait to host you, our coaches and team are looking forward to this event and are laughing already!  Join us, it's free, there's wine (for all the over 21's) and there's us (we're a riot). You're out of reasons not to come!
Sign up at the front desk/ or our Facebook event page or eventbrite.
-Team TFC